In a pre-pandemic world, QR codes were long forgotten. After nearly vanishing into obscurity, the QR code is back. And not just on restaurant tables. A Statista June 2021 survey found that 45 percent of shoppers from the US had used a marketing-related QR code in the previous three months. The share was highest among those aged 18 to 29, and 59 percent of respondents believed that QR codes would be a permanent use for their mobile phone in the future.
But first, a QR CODE history lesson

Invented in 1994 by Masahiro Hara from the Japanese company Denso Wave, the QR (quick response) code system was originally designed to track vehicles during manufacturing. About 10 or so years later, QR codes had their heyday in marketing but consumers needed apps installed on the phone to read them and adoption kind of fizzled. Thankfully, Apple embedded a QR reader into its phones with the iPhone 11 and then Android followed suit, serendipitously setting us up for success in a pandemic world and helping to fuel QR's comeback as a result.

Shifting consumer behaviors are causing brands to embrace QR codes for more than you think

Consumers are getting smarter by the day about the brands they buy. Beautiful products and old school ad campaigns are no longer enough. Today's consumers are also concerned with things like food safety, ethical sourcing, data security, and environmental footprints. With tons of devices and platforms vying for their attention, brands need to get savvier about how they communicate with consumers.

It's no surprise that companies from household names like Nike, Levi's, Loreal, Amazon, Ikea, and Zara — to luxury brands Louis Vuitton and Balenciaga — are hopping on the QR code train to make sure they respond to consumer expectations. But this time around, we don't see the train heading off to far away lands.

In fact, the use of QR codes extends so far past its original traceability origins, that our friend QR has more use cases than we can count. From reducing paper consumption and printing costs to converting products into walking storytelling machines, marketers and designers are rejoicing in its resurgence. Having the ability to update QR codes on the fly and keep consumer communication top of mind is where smart marketers and forward-thinking brands are investing their resources.

Today, brands are using QR codes to:
Track effectiveness of out of home advertising
Communicate with customers at point of browse and purchase via custom hang tags for clothing
Promote messaging on websites, social media posts and profiles
Run VIP, coupon, and/or loyalty programs
Enhance and track In-store and window displays
Transform e-commerce packaging (especially subscription box packaging) to mobile marketing billboards.

QR codes are enabling supply chain transparency and elevating sustainability practices like never before

Take sustainable clothing brand Pangaia, who describe themselves as "a materials science company on a mission to save our environment". Its tagline, "Science. Purpose. Design." is especially timely. In a smart move to amplify its brand ethos, Pangaia created digital passports via QR codes for its apparel -- enabling its customers to learn about the warehouse facilities a piece of clothing has passed through, ways to dispose of the garment once it wears out, and data on the carbon and water used to create it.

If you're thinking of embarking on QR code marketing to highlight your supply chain transparency and sustainability efforts, here's how to do it the right way:


If you're a sustainable brand and creating a QR code tag, please print QR codes on sustainable & eco friendly labels.
Note that recycled paper hang tags are usually the better option compared to compostable labels or biodegradable labels . Oftentimes biodegradable and compostable labels require specific processes and equipment to break them down, negating their supposed benefits in the first place.
If you're going to place QR codes on clothing stickers, make sure they are also recyclable.
Reusing is usually your best bet in avoiding landfills -- it's why we love the concept of circularity).
Look for vendors who are

a

bluesign® SYSTEM PARTNER. It's the strictest criteria and the verification companies along the entire textile value chain to improve their sustainability performance. The last thing you want to do is highlight your sustainability efforts on a tag that isn't even considered sustainable itself.


With all this talk about QR codes, if you want to see how QR codes marketing can work, open your phone's camera and point it at the code below. You'll be prompted to open your web browser for a page tailored to CHARMING's sustainability offerings.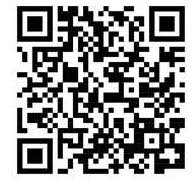 And there you have it.
Let's face it, as the world continues to shift and sustainability becomes increasingly important, digital tools like QR codes are the next frontier. We're looking forward to seeing how they continue to evolve and how we can help brands have this at the core of their marketing and sustainability efforts.